5 – Series H
December 5, 2009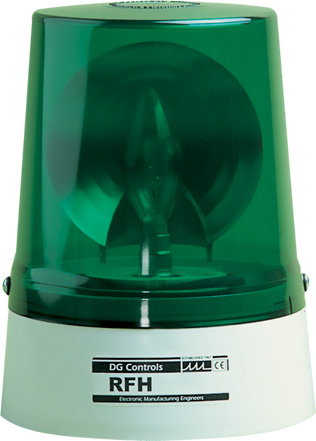 Series H has always been known as the "Hi-Top" beacon from deegee.  Standing at 225mm high, and 175mm diameter, it is the tallest beacon in the range.
Made with high grade engineering, UV-stabilised ABS for the base, and polycarbonate for the lens, Series H has a totally smooth exterior for easy wipe-down and clean.  This makes it ideal for use on vehicles, where the Series H dome is fitted to a shallower base, which is then mounted either directly onto  the vehicle roof, or fitted with a magnetic rubber base.
As well as the xenon and rotating mirror technologies, Series H can also be fitted with LED circuits, compact fluorescent and E27 lamp fittings.  Meeting the ICAO approval for Low Intensity Type A (10 candela) aviation obstruction warning beacons, Series H is an extremely popular choice as the aircraft warning beacon for many types of high-rise structure. 
Series H has various fixing options, with moulded drill-outs on 51mm centres for direct conduit box mounting and alternative 3 drill-outs on 100mm PCD and a further 3 drill-outs on 130mm PCD.  A central 20mmØ drill-out for cable entry is located in the base. 
With a stainless steel guard available, and various options of mounting bracket, Series H is an easy enclosure to work-with, in all sorts of applications.