9 – Series M
December 9, 2009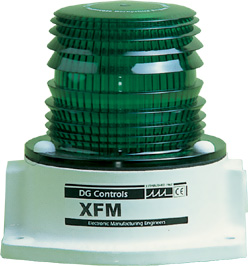 Series M is the heavy-duty cast aluminium version of the Series L enclosure.  Incorporating the thick-walled Series L lens, with its optimised external lens ribbing for enhanced long-range visibility, Series M is well-suited to rugged or harsh environments.    The Series M enclosure is certified to IEC Protection Class IP65.
Series M is pre-drilled with four fixing holes on 90 x 120mm centres for direct surface mounting or clamping.  Threaded M20 entries in the base and the side are suitable for direct conduit/gland coupling.
The same interiors as fit into the Series L enclosure also fit Series M, viz. the small halogen rotating mirror beacon, and the 2.5 joule and voltage variants of the xenon beacon range.  Polycarbonate lenses for Series M are available in Red, Amber, Green, Blue and Clear.  The lens and interior circuit arrangement offers 360 degree all-round and 270 degree all-over viewing.
A stainless steel wall-mounting bracket is available for Series M, as is a stainless steel cage guard.