XFD/UC/24/SH/2.5J/Colour
March 21, 2011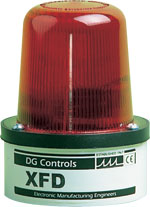 In response to enquiries from some of our key customers, deegee has modified the XFD product to accommodate a Universal Current.  This opens up new possibilities with this little xenon beacon.
Specified at 24V AC and DC, the unit is otherwise the same, housed in the little D housing, with its 102 mm height and 79 mm base diameter.  With an easy to wire terminal block, and entry to the ABS base via a 10mm cable entry hole, the XFD is very easy to install and maintain.  Offering 360 degree all-round and 270 degree all-over visibility, the XFD packs a lot of punch when it comes to flash intensity per unit size. 
Low voltage mains is a popular choice for air-conditioners, heating and cooling systems, and so to have a warning or status signal which works on this same voltage makes for a much easier installation.  One of the specialities of D. G. Controls is its ability to adapt and develop product to more particularly suit customer needs.  This is all possible because of our in-house development department and manufacturing facility.
For further assistance please do not hesitate to contact our sales team on +44 (0) 1283 550850.