Phew! What a week at International Firex 2009
May 15, 2009
After another successful week exhibiting at Firex at the NEC in Birmingham, UK, deegee has made contact with all the customers and prospects who visited us, and we thank you once again for your commitment to the deegee beacon and sounder range, and to our service offering to you.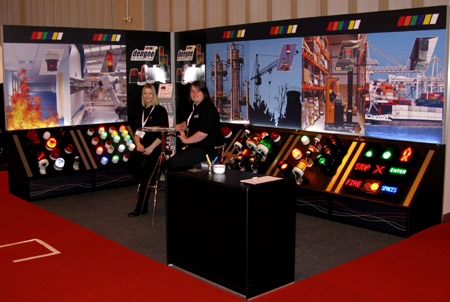 We had a higher than usual number of non-UK visitors, testament to the organiser's efforts in promoting this as an international show.  This was great as we are always seeking new countries with which to "do business", but it was also good to meet with existing and potential UK customers.
Using our new exhibition kit, we were able to demonstrate a wide range of products again, as we did at the Hannover Messe in April.  Whilst Firex and the associated show IFSEC mainly focus on fire and security, the deegee portfolio is applied in a vast range of sectors, and it is rather surprising just how many other areas are represented by the visitors to a show like Firex.  Engineers and installation specialists tend to cover more than just one aspect of site security nowadays, and this means the potential for picking up valuable contacts across the product range is high.