deegee @ Tekniikka 2008, Finland
September 2, 2008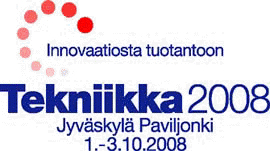 At the end of September 2008 you can see the deegee range being demonstrated again by Elektro-Tukku Oy, the Finnish distributors of the deegee brand of beacons. 
They are showing the deegee range at Tekniikka 2008, in Jyväskylä from 30th September to 3rd October 2008.  This is rated as the most important show in Finland for automation and production technology.  http://www.jklpaviljonki.fi/tekniikka2008/eng.php 
Elektro-Tukku will be located at Stand C-111.