Stacking Beacons
December 9, 2014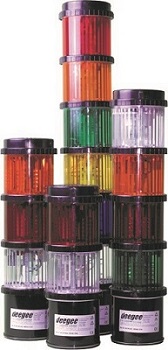 A range of modular stacking (click-together) beacon lamps, often called andon lights, with high environmental protection to IP65 standard (sounder ASA is IP54).
These products are ideally suited to internal or external multi-status signalling applications, and are commonly used on machinery as a visual alarm to draw attention to warning messages and fault conditions, helping minimise avoidable periods of non-productivity.
This modular approach enables stacks to be constructed from any combination of module types and eases the task of design and maintenance engineers, system integrators and stockist/ distributors. The comprehensive range builds from a common base/terminal module and offers choice of visual indicator modules including LED (Rotating, Pulsed and Static), Xenon Strobe, Filament Lamp (Pulsed and Static), together with electronic sounders.
•All external parts are moulded from engineering-grade, UV-stabilised polycarbonate for enhanced durability
•To complement the range, Wall Mounting Brackets, Pole Mounts, Compression Glands and AC to DC Converter Modules (UC-RECT) are also available
•These devices are totally modular and can be used as single indicators or multi-stacked up to 6 modules high
Note:
For each stack required, order one Base+Cap Module, and individual Indicator Modules/Lamps
Maximum stack = One Base+Cap Module + six (maximum) individual / assorted modules, of which one can be a Sounder Module