"Series C" Sounder/ Beacon combos pack a punch
November 16, 2009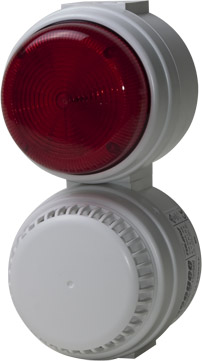 With formal launch of the "Series C" Industrial Sounder, the IAS-C, with its sound output of up to 110 dB, focus as always with the deegee range is on how versatile our products are.
Developed with an eye on the flexibility of the Series C range, a core application is the combining of the Industrial Sounder with the Series C Beacons as well as the Sign-Indicators such as the Cross, Arrows and No Entry.  The combined audible and visual signal greatly enhances the effectiveness of the warning.  Given the user-choosable 32 tones, with secondary tones, units can be tailored according to the specific hazard.
Joining the Series C units is easy, using the M10 moulded entries on the sides of the base.  Since the electronics are housed in the cap of the product, the bases can be installed at an earlier fitting phase, and the electronics installed as a second phase.  The cap is held in place with a single securing grub screw, rendering the unit  tamper-proof.
Any number of units can be joined together, and with an ingress protection rating of IP65 the Series C suits both indoor and outdoor applications.  
Most DC and AC voltages are covered within the range, and the full spectrum of deegee colours is available for the visual beacons and sign indicators.
All models are now available for delivery.