"Series B" – big brother to the new Series C
November 23, 2009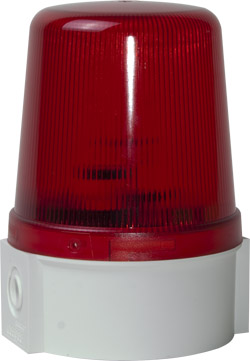 Now that the Series C range of beacons and sounders is formally launched, deegee has followed up in quick succession with the Series B!
Using the ABS Base of the Series C, the Series B is just that bit taller, using a brand new higher dome.  This allows for a different type of electronics inside, such as the best-selling 360 degree viewing LED range from deegee,  which includes a 10cd aircraft warning beacon compliant with the ICAO Low Intensity Warning Beacon standard.
The model range also includes the following beacon technologies:
2.5 Joule Xenon Strobe
5 Joule Xenon Strobe
Pulsed (flashing) LED
Static (non-flashing) LED
Revolving (simulated rotating) LED
Pulsed (flashing) Filament Lamp
Static (non-flashing) Filament Lamp
Compatible with the IAS-C Sounder,  the Series B range can be joined easily to other units, and with a choice of 32-tones available in the sounder unit, a huge number of signalling  requirements are met in this product.
Series B is rated IP65 and the full range of DC and AC voltages are available within the range, as is the full spectrum of deegee colours.
All models are now available for delivery.