Product of The Month – XFB Xenon Strobe
September 8, 2017
As we look at modern technologies today, and see the developments over the years, we may somehow ask ourselves…will we reach the end of science and technology? Will we eventually invent everything there is to be invented? Perhaps many of you will say that there is much more to be discovered and to be invented which will lead for further innovation of our current society today. And when we speak of modern technology, there is much more to see in the field of lighting. As we all know, LED technology is moving at a really fast pace. Many improvements and developments are being conducted which contribute to its fast growth during these past years. On the other hand, while LED technology continues to grow and show outstanding quality, pros and features that exceed other lighting devices, one of its major cons is its higher market price which most consumers can't catch up to. If you are seeking for a lighting device whose quality and luminescence is comparable to that of LEDs but much cheaper and affordable, you may want to try xenon strobes.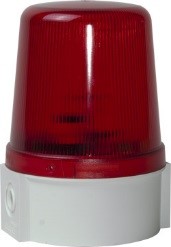 And speaking of xenon strobes, DG Controls Ltd has the right product for you. So for this week we will briefly discuss the XFB Series together with its highlight features that will help you save money without sacrificing quality.
XFB Series Features
Certified IP66 – The XFB series offers protection which makes the device more durable. It gives complete protection from dust, oil, non-corrosive material and contact with enclosed equipment. It also offers high level of protection from water, even from powerful jets of water.
12/24Vdc, 115Vac and 230Vac Models – The XFB series is also available in these three different models depending on intended power supply and the intensity of brightness you are looking for.
Choice of 2.5 Joule or 5 Joule Flash Energy – The device is available on 2.5 Joule or 5 Joule model for higher flash energy.
Single flash (SH) flash event – The XFB series offers a single flash (SH) flash event feature which ensures a consistent distribution of light in all directions and provides better visual warnings in noisy environments.
May be surface or wall mounted – You can choose to mount the XFB series on a surface or on a wall depending on the application.
Suitable for BESA conduit box mounting – The XFB series is also suitable for BESA conduit boxes for additional safety and security in your facilities.
Side and Base entry – The XFB series supports side and base entry of surface cables making it ideal for industrial applications and very simple to install.
Available with White (Standard) or Red (Option) base mouldings – The device is available in white or red (optional) base mouldings for your preference.
Although Xenon flashtubes can already be considered as out-dated devices compared to the latest release of LEDs in the market today, there are still many people who prefer Xenon flashtubes over LED devices. We can say that they are still kicking and always on the go if you want a much cheaper alternative for advanced LED devices that the market has to offer today.
For more details and information about the product, you can visit beaconlamps.com/products/visual-warning-signals/xenon-strobe-visual-warning-signals/xfb-series
---