*NEW!* PSC/HP-LED IP69K BEACON
February 14, 2022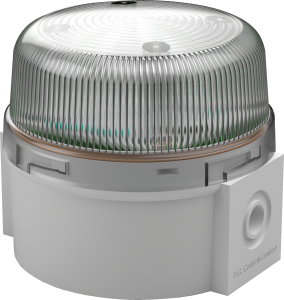 High Powered LED Beacon tested to IP69K Ingress Protection
84mm High x 94mm Diameter
The newest addition to the deegee range is the PSC-HP-LED Beacon, which is a High Brightness LED product, with an Ingress Protection of IP69K.
– The PSC/HP-LED employs high-performance LEDs yielding both exceptional brightness levels and a wider, more evenly distributed angle of view and a new single-part lens tested to IP69K Ingress Protection.
– Extensively configurable, comprising a robust White (standard) or Red (option) ABS Base, and a Polycarbonate lens. Multiple units can be joined together, including the matching IAS-C Sounder, to provide an integrated signalling system. (Note that system IP rating will be limited that of the lowest component IP rating)
– Circuitry is fixed to the lens assembly, with convenient access to the 2.5mm² terminal block for wiring, allowing easy fitting of bases and wiring during installation, and safe storage of the electronics and lenses for phase 2 fitting.
– Available with Red, Amber, Green, Blue or White LEDs.
Call or email our Sales Team for more information – Email: mail@beaconlamps.com Tel: 01283 550850