New online delivery communications
March 21, 2013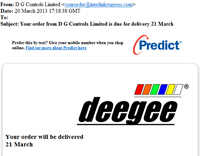 We have worked hard to improve your delivery experience and have, following a thorough review, selected a new carrier for standard despatches. One of the key improvements for you is that we now have a new way for you to check your delivery status!
Once you have placed your order with deegee, and it is ready for despatch, an email will be sent to you letting you;
See the status of your order
Find out the location and time you should expect your delivery to arrive
Amend your delivery to suit your needs
Below is an example of the email you will now receive:

We would love to hear what you think about the new delivery information!
For more information contact TeamDEEGEE on 01283 550850