New Aviation Warning Light Signals The Way
February 14, 2011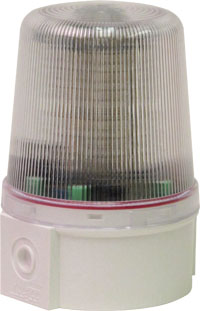 Product development is what drives businesses such as D. G. Controls Ltd forward, and having our own full-time development engineer based at our UK office gives us a reactivity second to none when it comes to developing products to customers' requirements. 
Recognising our position in the aircraft warning sector, orders are now in from our key distributors for the newest in the range, the SBB LED 10 Candela Aircraft Warning beacon.  Officially termed the SBB/*/*/LED/Type A/Red, this little beacon meets the ICAO regulations for low level intensity warning of aircraft.  Being a 360 degree viewing enclosure, the SBB Type A uses different LEDs from the larger SBE and SBG Type A products, offering a higher light intensity per LED, and meaning that the required brightness levels are met within the much smaller series B enclosure.
Series B is an IP65 rated enclosure, pre-moulded with M10 and M20 cable gland entries.  The lens fits with a specially designed O-ring and tightens on a bayonet-style fitting, securing with a tamper screw  into a blind hole.  Carefully designed to minimise dust and dirt build-up, and fully water-tight, Series B is perfectly suited to the outdoor environment, and with long-life LEDs, makes maintenance a thing of the past.