MACH 2010
July 1, 2010
At its second exhibition of 2010, June saw D. G. Controls back at MACH, the UK's leading manufacturing technologies exhibition. Held at the NEC Birmingham,  MACH is recognised as a shop window for all types of machines and equipment used in engineering based manufacturing.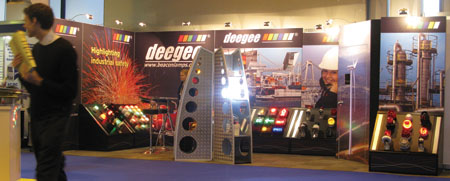 An integral part of the marketing strategy, exhibitions are a great opportunity to show much of the deegee catalogue of enclosures and circuit technologies, and prove a worthwhile forum at which to discuss specific product requirements with the deegee sales team.
MACH is a biennial event hosted by the Manufacturing Technologies Association (MTA), a UK based trade association dealing specifically with engineering based manufacturing.  D. G. Controls has been part of the MTA since 2008, when it first exhibited at MACH. 
The week at MACH proved especially fruitful with a number of discussions with one of the UK's leading automotive manufacturers regarding the deegee stacking beacon ANDON range.  With a portfolio which includes LED, xenon and filament technology, and being the only beacon company to offer 7 different colours and a sounder unit, the deegee stacker is wholly versatile for all your signalling requirements. 
For further details of any of the deegee beacon and sounder range, visit our website.