All lights blazing at SPS Drives 2009
November 24, 2009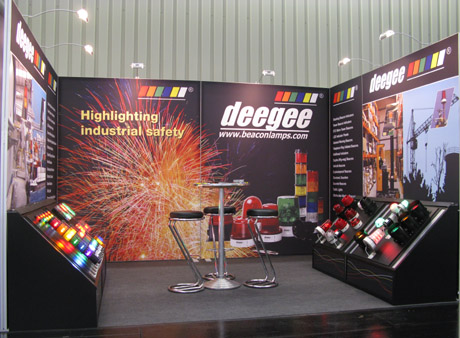 For the first time in 7 years, the deegee brand of beacons and sounders has been taken to SPS Drives at Nuremberg.  With an exhibition stand based on the theme of "Highlighting Industrial Safety", and further developing the brand identity from the Hannover 2009 show, the deegee range has certainly attracted some positive attention on the first day of the show.
With many more of our worldwide customers attending the European shows, it's a very effective way for deegee to meet with our core export distributors, as well as showcase the product range to end-users.
Using the show to focus on the industrial sector, including the stacking beacon range, the panel displays, the warehousing and logistics signals, and the sounders, it is apparent that deegee really does have a product offering for every sector.   
For an opportunity to get involved with the deegee beacon and sounder range, pop along to Hall 5, Stand 462, and have a chat with Jon and Donna.  Remember though, the show is only open until 5pm on Thursday 26th November 2009.