4 – Series G
December 4, 2009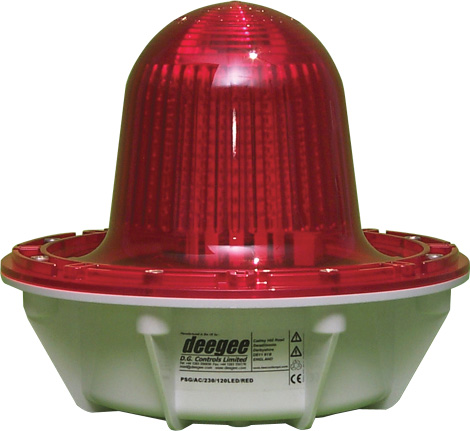 Series G has always been the preferred deegee beacon for marine applications, due to its robust construction and IP68 ingress protection rating.  It can be seen at many of the docks and harbour entrances in the UK, fitted with any of the deegee technologies – xenon, LED, fluorescent or filament, as well as the rotating mirror mechanism in filament, halogen or LED.
However, more recently deegee has being using the Series G enclosure for its ICAO approved Low Intensity Type A (10 candela) and Type B (32 candela) aviation obstruction warning beacons. 
With the eight-point tamper resistant dome fixings and O-ring gasket for positive ingress protection, Series G is tough enough to handle the most severe battering of the waves and the rain.  Both the base and lens are manufactured from high grade engineering, UV-stabilised polycarbonate.  Lenses come in the full deegee range of Red, Amber, Green, Blue and Clear.
For cable entry and mounting to either conduit, flat surfaces or onto the optional brackets, there are flat positions in opposing sides (2 off) and the base (1 off) of Series G, for the end-user to drill entries for Conduit/Glands and to allow through-connection.  The side entry thickness is suitable for thread forming.
At time of ordering, an optional stainless steel cage can be bonded to the dome lens.  Two options of mounting bracket are also available for Series G.