3 – Series F
December 3, 2009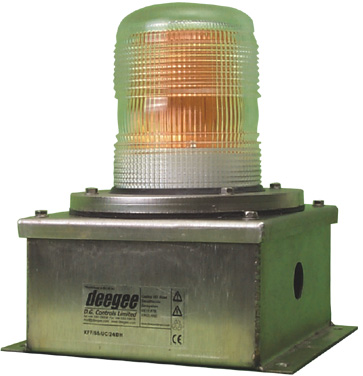 Series F is the deegee enclosure of choice for very harsh environments including acidic conditions. 
Manufactured using AISI 316 stainless steel, and fully sealed with acid-resistant rubber gaskets, Series F is a heavy-duty beacon featuring a clear glass Fresnel dome over a coloured polycarbonate Series D dome.
The enclosure features fixing holes on 120 x 165mm centres, and side 20.5mmØ cable entry, and is  rated at IP65.
The most popular circuit fitted to Series F is the amber xenon 11Joule unit, but static, pulsed and simulated revolving LED circuits are also available, as is a voltage ranging xenon (12-100Vdc, 12-72Vac).
Offering 360 all-round visibility, Series F can be mounted vertically or horizontally, indoor or outdoor.